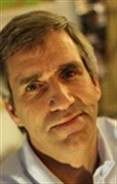 Founder & CEO
David left corporate comfort in 2011 to establish The Ideas Centre Ltd, to pursue his passion for business transformation through the release of individual potential. A highly engaged and inspirational speaker, he coaches businesses of all types to unblock "breakthrough thinking", introducing an "ideas culture" that drives the innovation process. Having experienced 25 years in Board Level leadership in a range of sectors, his practical approaches to creativity and innovation are geared to embedding systematic approaches within the organisation.
Prior to the Ideas Centre, David was CEO of HFL Sport Science Ltd, a drug surveillance and contract research organisation based in Newmarket. More generally – since 1984 he has held leadership positions in a range of sectors (oil & gas, scientific instrumentation, contract electronics). Creativity, innovation, and a pursuit of the perfect culture provide a common thread throughout his career to date.
A few other points of note:
HFL entered The Times Top 100 Companies to Work For in 2005
E-on Award – "The UK's Most Energetic Boss"! (2007)
In 2007 became "Visiting Professor in Business Creativity" at the University of Bedfordshire
---
Chief Operating Officer
A graduate chemistwith an MBA, Carolinebegan her professional career as an Analytical Chemist in the sports anti-doping industry.
Having discovered that people were in fact more intriguing than science, she moved out of the laboratory and into operational management holding senior roles within a variety of organisations (HFL Ltd, Quotient Bioresearch Ltd and LGC Ltd (latterly as Global Operations Director))leading and managing multi-disciplinary teams and projects.
Caroline became interested in the power of creative problem solving whilst at HFL Sport Science Ltd and helped to embed this into the culture of the organisation by introducing finger-painting as part of the induction process for new starters.
Her positive approach and empathic people skills are a powerful combination in project leadership, and she has a successful track record of taking creative ideas and transforming them into practical reality in order to solve business problems in an innovative way.
Having worked with Dave Hall in numerous roles since 2001, Caroline joined the Ideas Centre as COO in 2014.
---
Partner
Cathy left corporate comfort in 2013 to pursue her passion to work with individuals to enable them to understand and unblock their patterns of thinking to release their potential within.
Prior to the Ideas Centre Group, Cathy was a IT project manager in AstraZeneca, a pharmaceutical organisation based in the North West.
Cathy is very passionate about people and how they identify with and experience their working world and this led her to completing a Psychology degree as a mature student.

---
Partner
With over 18 years of award-winning experience in marketing Silke has been influential in taking brands to market and delivering tangible results for global brands across multiple markets within a variety of industry sectors such as retail, pharmaceutical, research, automotive and petrochemical. Some of her clients include Home Retail Group, Peugeot, BP, Oral-B, Aston Martin Lagonda, Royal Horticultural Halls, Bedfordia and Poggenpohl.
Following her degree in European Business Management in Heidelberg, Germany, Silke refined her marketing and communications skills with a Diploma in Direct Marketing from the Institute of Direct Marketing.
Working in the UK and across Europe, Silke's passion for continuous improvement and innovation has gained her commitment and buy-in at senior and board director level. Managing small and large marketing and creative design teams in agencies such as BI Worldwide and her own marketing agency, SB Marketing, Silke has helped clients such as HomeStore&More and BedStore&More (subsidiaries of Argos), achieve a return on marketing investment within six months of the launch of their new brand concepts.